The PowerClix® magnetic building toy system goes for the win with its aerodynamic Racers set. Build vibrantly-colored performance race cars using the 41 unique snap-on pieces.
Customize your race car build with a spoiler, bumper, fenders, motors, dual exhaust, side scoops or a roll bar for endless combinations of decked out racing vehicles.
Sturdy wheels and axels and streamlined magnetic parts make building and altering each vehicle a snap.
Includes an exclusive new PowerClix piece that replicates a race car window and three sheets of chrome-like stickers to customize vehicles.
Each set includes a Creativity Guide with pictorial instructions for three unique advanced builds.
Benefits
PowerClix® magnetic Racers includes a Creativity Guide with three unique advanced builds in three vibrant colors
Build endless custom vehicles with 41 click or snap-together, magnetic car parts and pieces such as a spoiler, bumper, fender, motor, dual exhaust, side scoops and a roll bar.
Put together a sturdy vehicle with wheels and axles, take it apart, and build another.
Includes three sheets of chrome-like stickers to customize vehicles.
For indoor use only
Material: Translucent ABS plastic with neodymium magnets
Ages: 5+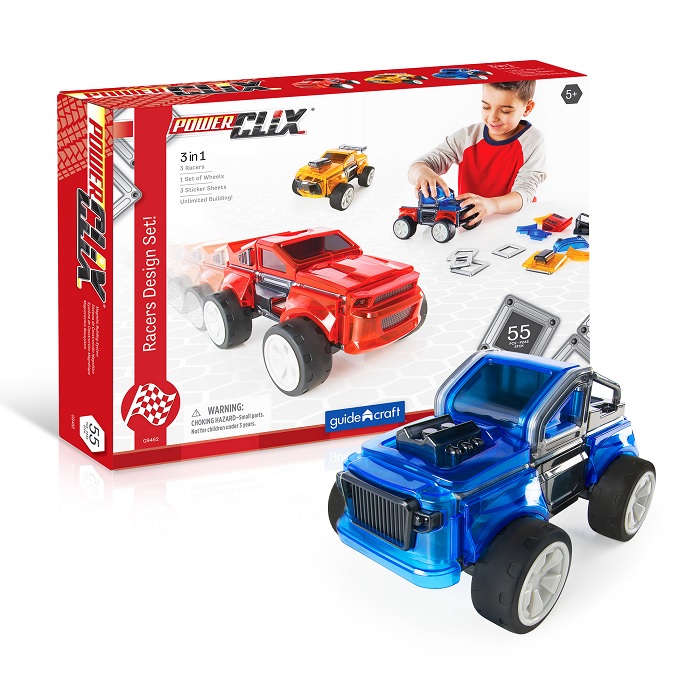 Guidecraft PowerClix Racers Design Set