Hecsac Dual Lunch-Bag is an insulated expandable double compartment lunch-bag.
It is lunchbox's perfect companion for grown-up heading back to school or bring it just for your office lunch.
Don't worry about the mess! Best of all you can just expand it when you need more room with double mesh pockets for bottle holder.
Hecsac special feature, an easy access tissue pocket with write your name label inside.
Including extra bag strap so you can wear you bag exactly how you want.
Outer dimension: 28x20x19cm
Inner dimension: 25x19x16cm
Outer with Expand dimension: 28x20x24cm
Inner extra Expand dimension: 25x19x5cm
Feature:
Expandable double compartment bag
Flat lay to avoid leakage
Fit most of lunchbox sizes
Build in easy access tissue or wipes pocket
Double side mesh pockets for bottle holder
Extra strap to carry
Full insulation
Mesh pocket for utensil
Label for personal identity
Material:
Easy to clean Polyester
YKK original zipper
High Quality Aluminium foil for insulation
Magnetic button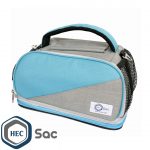 Hecsac: Dual TealZeal Blue