Description
Reviews (0)
Description
Outfit your play kitchen with this deluxe set of premium play food that caters to every taste!
Complete Play Food Set includes all of your child's favorite foods (50 pieces in all) for tasty play that lasts all day.
Teach healthy eating habits, expand vocabulary, and reinforce color recognition
Ideal for kitchen accessory play sets, pretend food collections, and play pantry products
Designed for ages 2+, pieces are soft, durable, and adorable.
Includes: egg, 2 pancakes, cinnamon roll, hot dog, ice cream sandwich, 2 carrot crinkles, baked potato, broccoli, strawberry, 2 berry clusters, steak, asparagus, hamburger with bun, corn, yogurt, banana, clementine, grapes, pear, 2 pretzels, 2 crackers, 2 cheese chunks, 2 cucumber slices, macaroni and cheese, 2 cookies, cereal, bagel, apple, turkey slice, salami slice, 2 slices of bread, 2 cheese slices, 2 lettuce slices, 2 tomato slices, and 2 chips.
This play food set comes in a brown corrugate box. Easy to recycle and great for the environment!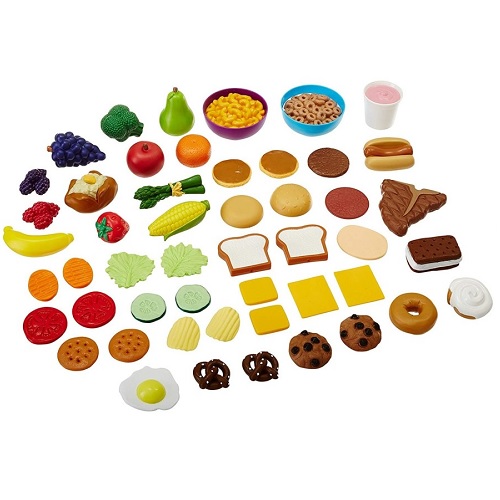 Learning Resources New Sprouts Complete Play Food Set