Crayola Super Tips Washable Markers can be used for a variety of projects thanks to versatile tips that can draw either thick or thin lines. Use Crayola Super Tips Markers for drawing, coloring, or even writing. The markers are designed to easily wash off of skin and out of most clothing, plus their ink won't bleed through paper. With 20 colors to choose from in the pack, you can create any number of imaginative and colorful creations.
Draw Thick or Thin Lines with the Same Marker
The special tip on each Crayola Super Tips Marker lets you create either a thick or thin line. You can go from adding large swaths of color to decorating with finer detail without needing to switch markers. Coloring, drawing, and even writing–Crayola Super Tips Markers can handle it all.
20 Vibrant Colors for Artistic Fun
An array of 20 colors to choose from lets you find just the right shade of blue for your ocean scene or sky full of birds. Traditional colors like red, green, and orange are joined by turquoise, olive, lavender, light peach, and more.
Washable Ink for Less Mess
Sometimes making art takes you outside the lines, or even off the page. When this happens, it's nice to know that Crayola Super Tips Markers are designed to be washable. The ink is easy to remove from skin and most clothing. And it won't bleed through, so you don't have to worry about stains on the table or even on your next piece of page.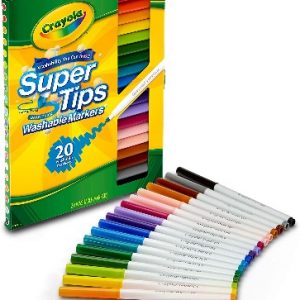 Washable Super Tips Fine Line Markers 20ct