Description
Reviews (0)
Description
Bangun huruf dan desain kreatif dengan GeoStix Letter Construction Set! Mainan motorik halus ini termasuk 200 stick melengkung dan lurus dalam 10 ukuran dan 7 warna, ditambah 25 kartu aktivitas dua sisi.
Bangun huruf besar dan kecil A-Z, latih ejaan dan buat kalimat dasar. Anak-anak akan senang membuat dinosaurus, hewan, dan kendaraan sesuai Kartu Aktivitas. Mereka dapat membuat objek dan desain unik mereka sendiri juga.
Stick ini memiliki beberapa titik koneksi untuk kreasi 2D dan 3D dengan fleksibel dan mudah dipasang oleh anak-anak.
Untuk usia 3+.
Construct letters and creative designs with the GeoStix Letter Construction Set! This fine motor toy includes 200 curved and straight connecting sticks in 10 sizes and 7 colors, plus 25 double-sided activity cards. Build uppercase and lowercase letters A-Z, practice spelling, and construct basic sentences.
Children will love to build dinosaurs, animals, and vehicles with the Activity Cards. Or, children can create their own unique objects and designs! These connecting sticks feature multiple connection points for endless 2D and 3D creations.
The sticks are flexible and easy for kids to snap together. An ideal hands-on manipulative for learning at home or in the classroom! || For ages 3+.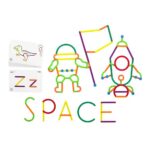 edx Geostix - Letter Construction Set