Description
Reviews (0)
Description
The number balance activity set is an excellent hands-on Equivalence tool to show children number relationships and number operations. As kids become familiar with basic number concepts, the number balance may be used to learn about addition and particularly about the Commutative property of addition, that is 6 = 4 + 2 and 2 + 4 = 6. Links to equations such as 2 + 2 + 1 + 1 = 4 + 2 may be made. The Ideas of greater than and less than may be explained using a number balance. Subtraction, multiplication and division may all be explained using a number balance. Later early Algebra concepts may be introduced. Set includes 10 double-sided colorful activity cards. Balance measures 14 inch long and 5 inch high. 20 equivalent weights included.
A hands-on math teaching tool
Using the Number Balance, students can gain insights into basic arithmetic, multiplication, division and algebraic equations.
Activity cards for multiple skill levels
10 double-sided activity cards are included and contain arithmetic equations represented numerically and pictorially.
Self-check feature for instant learning
Place weights on a number on one side and an equivalent number combination on the other to balance the weight. Kids love to watch the handy reference point balance to achieve equilibrium.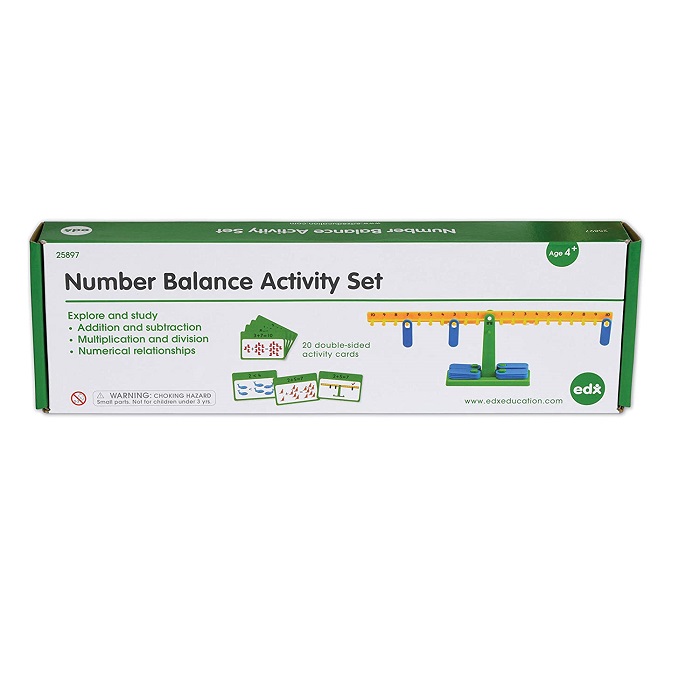 edx Number Balance Activity Set