Description
Reviews (0)
Description
Naturally inspired by leaves, water droplets and seeds, the Interlox Leaves – 96 pc. set provides children 2 and up with an open-ended building toy that allows them to explore engineering, design and symmetry concepts.
Create kaleidoscopic builds reminiscent of patterns in nature with the friction-fit, organically-shaped pieces.
A beautiful, subdued, natural color palette and recyled material construction further enhance a child's connection to the natural world.
Hands-on construction activities are inspired by 10 double-sided build cards on a ring.
Incorporate light play and natural materials for even more exploration.
Set includes 96 pieces.
One leaf measures 4cm W x 3mm D x 6cm H.
Benefits
Nature-inspired pieces featuring notched edges fit securely together
Subdued colors provide a beautiful, natural palette
Children 2 and up can practice activities in patterning, construction, transparency and balance
Made with recycled materials
Includes 10 double-sided mini build cards for inspiration
Set includes 96 pieces; individual leaf measures 1.6″W x .1″D x 2.4″H (4cmW x 3mmD x 6cmH)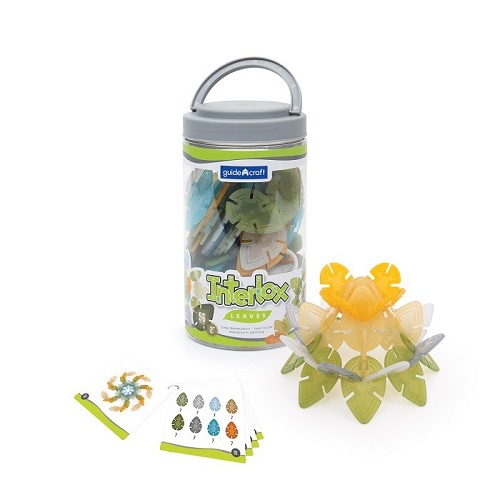 Interlox Leaves - 96 pc set