Description
Reviews (0)
Description
| | |
| --- | --- |
| Weight | 750 g |
| SKU | LER3368 |
| Category | 2-4 years, 4-6 years, 6-8 years, 8+ years, Age, Brand, Early Childhood & Pretend Play, Learning Resources, Maths, Subject |
| Tag | Counting, Educational Toy, Maths, Sorting Toy |
Spot the Face, Spot the Emotion: With 6 fun faces and 6 unique shapes, these feeling toys for kids strengthens social-emotional learning (SEL) skills through fun, hands-on play!
A Fun Way to Talk About Feelings: Ready for use at home or in the classroom, the All About Me Feelings Activity Set comes with an SEL activity guide with ideas on how to use this emotion toy to get kids talking and learning!
Counting, Sorting, and Colors!: When they're not talking about feelings, kids can use the set's built-on sorting set to sort and match the counters by shape, color, and emotion!
When kids kearn how to recognize, understand, and feel their feelings, they build the skills they need to make friends, master teamwork, and live a happier, healthier life!.
Learn all-new social-emotional learning (SEL) skills with these feelings-filled counters! Set of 36 counters includes 6 emotions and 6 bright colors—help kids talk about happiness, sadness, surprise, anger, and more! Counters are also ready for sorting, matching, and counting fun.
Skill Sets
SEL
Counting
Color Sorting
Patterning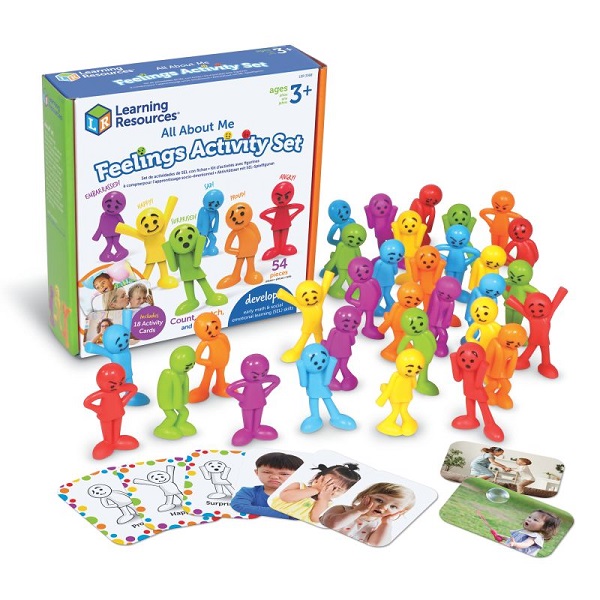 Learning Resources All About Me Feelings Activity Set