Description
Reviews (0)
Description
It's a crashin', bashin' set of STEM challenges for Botley the Coding Robot!
The worlds of coding and construction collide in the Botley Crashin' Construction Challenge.
The engaging accessory set comes with two new attachments inspired by the world of construction vehicles: turn Botley into a wrecking ball or tow truck with the moveable crane attachment, or snap on the adjustable plow arms and send Botley on bulldozer adventures!
The set's full-color, illustrated guide includes six STEM challenges to get kids started—build up block structures, then code Botley to knock them down, clean up the mess, or tow them with the hook and cable!
Botley Crashin' Construction Challenge also supports open-ended imaginative play that helps kids boost their critical thinking, problem-solving, and other essential STEM skills.
Botley Crashin' Construction Challenge works with both Botley the Coding Robot and Botley the Coding Robot 2.0.
Accesories only. Botley Robot is not include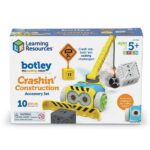 Learning Resources Botley Crashing Construction Accessories