Description
Reviews (0)
Description
Help Botley set off some crashing chain reactions with Botley the Coding Robot Action Challenge Accessory Set from Learning Resources.
This interactive 41-piece accessory set contains everything kids need to set up STEM-inspired obstacle challenges for Botley to navigate.
Kids can follow the instructions inside the included Activity Guide to create 9 obstacle challenges filled with falling dominos, rolling balls, and swinging hammers, or design their own courses using critical thinking skills.
Once everything's in place, kids simply code Botley with the desired steps, press transmit on the remote programmer, and watch him get things moving!
n addition to building early coding skills, each obstacle course run also introduces fun hands-on lessons in early physics concepts including force and motion.
All pieces in the Botley the Coding Robot Action Challenge Accessory Set are compatible with other Botley accessories, making the possible obstacle course builds as countless as they are fun.
Includes:
falling dominos
swinging hammers
rolling balls
and more physics-inspired accessories
Master the Activity Guide's 9 challenges, or build your own chain reactions
Works with other Botley accessories!
Accesories only. Botley Robot is not include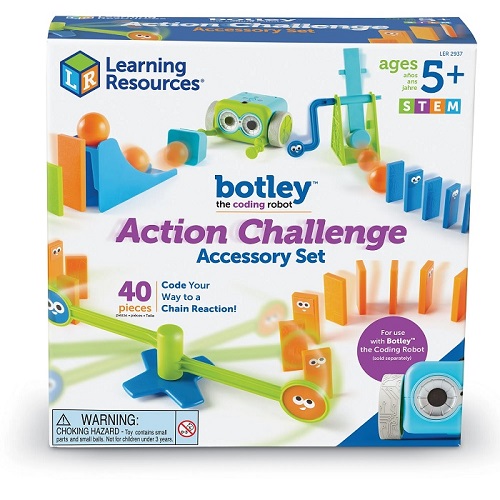 Learning Resources Botley The Coding Robot Action Challenge Accessory Set