Description
Reviews (0)
Description
| | |
| --- | --- |
| Weight | 2700 g |
| SKU | LER3711 |
| Category | 2-4 years, 4-6 years, 6-8 years, 8+ years, Age, Arts & Geography, Brand, Early Childhood & Pretend Play, Learning Resources, Subject, Teaching Resources |
| Tag | Storage |
Portable Storage Solution: Stay organized at home, work, or school with this convenient spinning school supplies organizer's big see-thru bins!
Six Bins, Six Sizes: Arranged in six discrete sizes, this art supplies organizer's durable plastic bins can handle supplies of every shape and size!
Secure, Colorful Lids: Each of the Create-a-Space See-Thru Spinning Bins comes with a colorful lid for secure storage and easy color coding in classroom organization plans!
Great for Food: Made from food-safe plastic, the Create-a-Space See-Thru Spinning Bins even make a clever solution for kitchen and pantry storage!
A brand-new direction for our bestselling Create-a-Space line! This rotating set of 8 storage bins helps you organize supplies by size, use, and more! Each bin comes in a unique size for easy access and categorization. Includes lids for extra storage security.
Skill Sets
Paper/Folding Storage
Stackable Station
Lidded Storage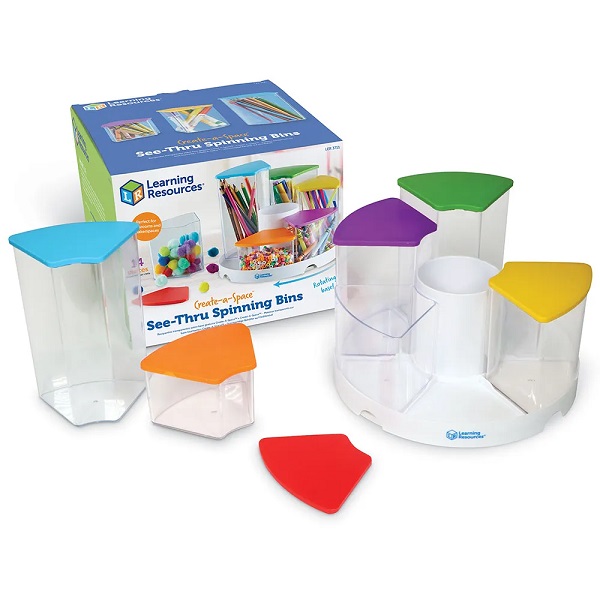 Learning Resources Create-a-Space See-Thru Spinning Bins