Description
Reviews (0)
Description
Yum! Learn the sweet science of tasty treats with the hands-on edible experiments of the Yumology! Sweets Lab.
Using common ingredients found in the kitchen cupboard, kids build their early STEM skills as they use child-friendly recipes to mix, chill, and eat their own ice lollies, juices, and no-bake treats with this cool sweet lab. No heat required!
Whether they're measuring out ingredients, mixing colours together, or freezing treats from liquid to solid, kids gain early science skills from the full-colour guide's seven easy kids' experiments.
Yumology! Sweets Lab's durable plastic pieces help kids create their super sweets again and again – prepare toppings with the kid-safe Chippy Chopper, fill and freeze the cool Shapesicle ice lolly mould, or mix up a lesson in sweet chemistry within the lab-style beaker. Each of Yumology! Sweets Lab's pieces also wash clean for easy storage, so they'll always be ready the next time a sweet tooth strikes!
Includes:
– 1 Icy gem mould
– 4 Shapesicle moulds
– 1 Shapesicle base
– 1 Sweets dropper
– 1 Beaker
– 1 Graduated cylinder
– 1 Two-piece Chippy Chopper
– Multilingual Recipe Guide
– Largest part cylinder measures 22.2cm H.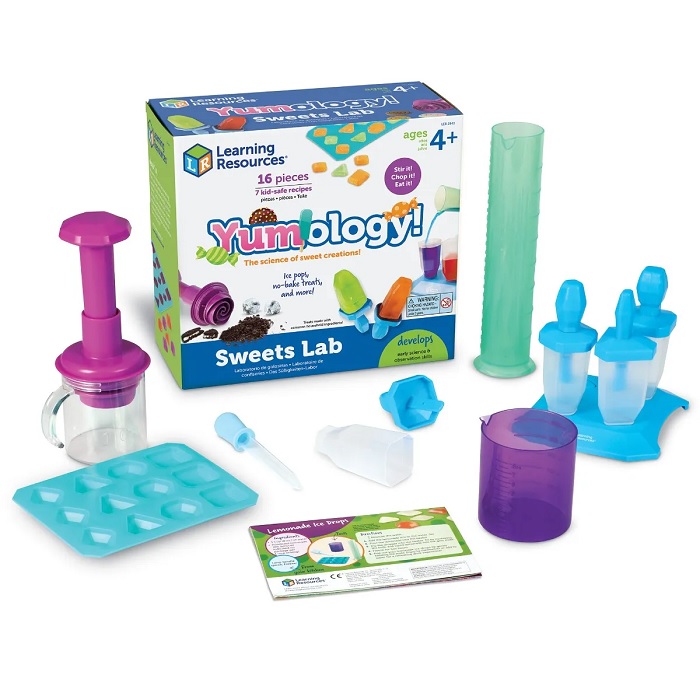 Learning Resources Yumology! Sweets Lab