Pattern Block Printable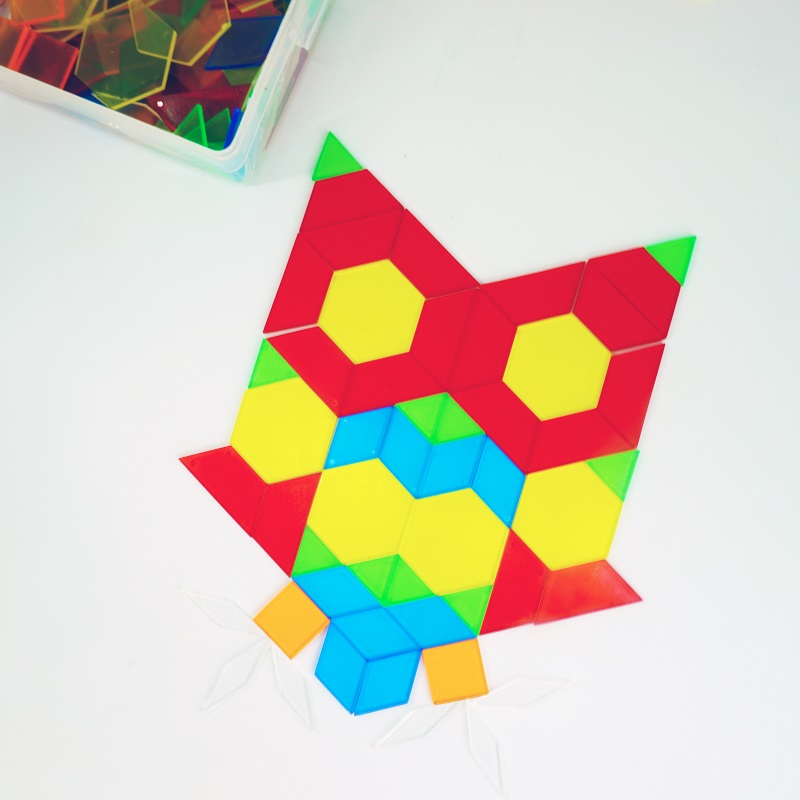 Banyak yang bertanya sebenarnya Pattern Block itu apa sih?
Sesuai dengan namanya, pattern block biasa digunakan untuk membuat, mengidentifikasi dan memperluas pola. Anak-anak dapat menggunakan bentuk-bentuk potongan geometri ini untuk mengekplorasi pecahan, sudut, transformasi, pola, simetri, pengukuran dan lain sebagainya. Selain itu mereka dapat menyusun dari pola kecil menjadi besar, mengurai pola besar menjadi potongan bentuk kecil dan memperkenalkan anak-anak dengan the idea of tiling (menyusun ubin).
Pattern block memiliki bentuk dan warna yang standard. Dalam satu set selalu mencakup bentuk segitiga hijau, persegi orange, belah ketupat biru, belah ketupat krem muda, trapesium merah, dan segi enam kuning. Keenam bentuk ini berfungsi untuk mengembangkan keterampilan penalaran spasial dan alat peraga dalam pengenalan matematika.
Pada mulanya, biasanya saat pertama kali berkenalan dengan pattern block, anak-anak akan mulai dengan membuat design bentuk abstrak simetris dan asimetris. Seiring berjalannya waktu, design ini biasanya akan menjadi semakin komples dan elegan atau kebalikannya, menjadi lebih sederhana saat anak berusaha menyempurnakan idenya
Untuk selanjutnya, anak-anak dapat menggunakan printables sebagai bantuan untuk menciptakan bentuk pola-pola baru yang menyerupai bentuk real sebuah object.

Download Printable Pengenalan Pattern Block: Beginner Pattern Block
Download Printable Pattern Block Animal Series: Pattern Block Animal Series
Download Printable Pattern Block Animal Series II: Pattern Block Animal Series II
Download Printable Pattern Block Challenge: Pattern Block Challenge Card
Untuk opsi pattern block jenis lainnya: